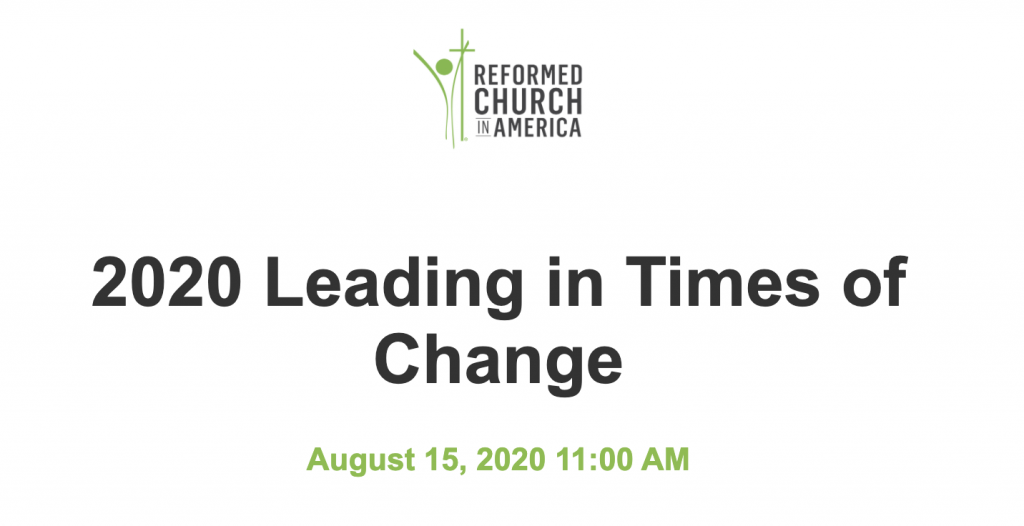 ---
In times of upheaval, church leadership really matters. 
Because leading change is critical for churches during this turbulent season, the Reformed Church in America is offering a Leading in Times of Change Workshop on August 15, 2020, from 11:00 a.m.–2:00 p.m. (ET).
This online workshop is for churches that want to navigate change effectively and gracefully.
This workshop will give you a roadmap to navigate the tumultuous landscape of leading congregational change, including insights and lessons learned from practitioners who have done the following:
Shifted from insider-focused ministry to outsider-focused mission.
Repurposed programs, committees, and activities that didn't support their mission.
Retooled the governance structure and moved toward a staff-led model.
Restarted a dying church of 80 people into a thriving church of more than 1,000 people in 10 years.
The workshop is a three-hour video call, during which you'll be able to ask questions.
Following the workshop, each church will have a one-on-one video call with a consultant to help develop a personalized strategy for implementing what you've learned in your church.
Whether you're a pastor, church staff member, consistory member, elder, or deacon, this workshop will help your congregation succeed in mission and to enable your church staff to succeed in leadership.
Group Registration:
Now – August 4 = $49.00 USD for three people
August 5 – August 12 = $59.00 USD for three people